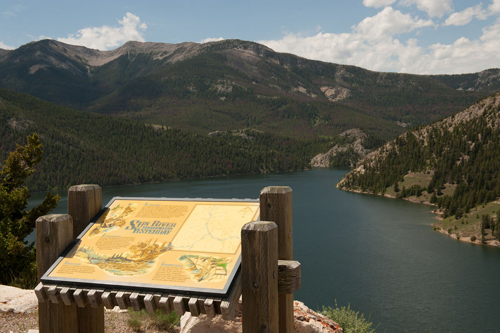 Rocky Mountain International is in its 20th year promoting the "Real America" region of South Dakota, Wyoming, Montana and Idaho in five European markets – the UK, Italy, France, Germany and the Benelux region. RMI promotes this region as an authentic, western destination attractive to Europeans because of its Native American culture and western history, its national parks, as well as adventure oriented opportunities. It is also a value packed destination when compared to other popular US destinations and to many worldwide vacation destinations considered by Europeans.
RMI's European offices are in close contact with tour operators and media in order to educate them about what the region offers, facilitate fam tours here, to encourage them to include more product from our region in their brochures and online offerings and expand media coverage of our region. Our offices work closely with tour operators to develop itineraries and packages. They coordinate trade shows and sales missions in each market and are constantly on the look out for additional opportunities to showcase our region in these markets. Each office maintains an in-language website as a resource to learn more about our region. RMI maintains its own international website – www.rmi-realamerica.com - an excellent resource for learning about our region.
Each year the states decide which marketing activities to invest in and usually have a small budget remaining to add opportunities as they arise throughout the year. This flexibility allows the region to take advantage of changing trends as they occur. Because the states work together and pool their funds to promote the region they accomplish more with less money and effort. It would cost each state more than nine times what they pay to accomplish the same efforts individually by state. There is no membership fee for regional suppliers. All you have to do is contact your state tourism representative to let them know you want to become involved and participate in whichever of RMI's annual marketing events you choose.
RMI measures the amount of regional product available in each market through its TRIP Reports each year. Each overseas office tracks the amount of product in tour operator brochures and online offerings. We compare the numbers in each state and from each overseas market in five different product categories. This allows us to track increases or decreases in product and trends in each market. While US visitation as a whole may have decreased this past year, we see interest in our region remaining high as evidenced by the increase in our region's product being offered in our markets.
Megafam is a familiarization tour held each fall in two of our states. We invite tour operators from each market and receptive tour operators to our region so they can experience it for themselves while traveling here over an approximately eight day period. In 2011 the Megafam will feature Idaho and Montana. In 2012 it will feature Montana and South Dakota. Exact dates in 2012 are still to be determined but if you want to offer services please contact your state tourism representative to see how you can help.
Roundup is another annual event held each spring in one of our four states. It is a mini trade show in which regional suppliers meet with tour operators from each of our markets to discuss their products and conduct business. In 2011 it will be held at the Hotel Alex Johnson in Rapid City, SD. In 2012 it will be held in Wyoming. Usually pre and post fams are held in conjunction with this event so there are additional opportunities for tour operators to learn about our gateway cities and other states in our region. There is a fee for suppliers to participate in this event but it is much less expensive than going to an international trade show like PowWow or traveling overseas to meet with tour operators. This event also focuses only on our region and only tour operators who specifically want to do business in our region are invited to attend. As part of their registration fee, suppliers are invited to attend a briefing about current trends in our markets and to learn more about working with receptive tour operators and overseas tour operators. At the main dinner they can mingle with tour operators in a more relaxed environment.
RMI-US attends USTA's PowWow each year. We have a booth and meet with approximately 45 tour operators and media from our markets on behalf of our four states.
RMI's quarterly newsletter includes news from our region and about our markets. We try to provide articles, like this one, that are helpful to our suppliers and give updates about recent trade shows, missions and marketing activities in each of the markets.
The Real America Guide is published once each year and promotes our four states, gateway cities, partners and official receptives in the overseas markets. The guide is published in English, German, French and Italian and is available online. Regional suppliers can advertise in the guide to gain additional exposure overseas.
Whether you want to focus your international marketing efforts on all of our European markets or just one, you can benefit by becoming involved with RMI. It is a cost effective way to get the word out about what you offer and is effective in helping you meet overseas tour operators who want to work with our region.
Here are some suggestions about what to do and what not to do when marketing overseas.
Develop the relationships. Tour operators tell us they would prefer to book with someone they have met and know and trust, instead of an anonymous person they have never met and don't know if they can trust.
Learn about the market you want to enter. Attend Roundup to meet the overseas representatives and learn about trends. Attend Roundup to meet the players operating in that market, learn what their needs are and tell them about your product. Consider attending overseas trade shows to meet the important players in each market.
Follow up immediately. Be responsive to requests. If a tour operator does not receive a response from you they will find someone else to work with. If an overseas tour operator asks for your rates you need to provide them immediately. If they request a booking you need to provide confirmation immediately. Their requests are time sensitive – their clients will go elsewhere if they can't get immediate answers. Be open to considering more flexible cancellation and payment policies for overseas tour operators if it means they will work with you.
Don't expect results overnight. International marketing takes time and patience. You may not see an immediate return on investment when you host a fam tour or meet with a tour operator at Roundup. It may take several years for a tour operator to develop a new tour that will include your product. Be patient and
keep communication lines open. Be ready to respond when the time comes. Work with a receptive tour operator. This provides you with much exposure overseas that would be expensive for you to get yourself. The exposure you gain is well worth the discounted rate you offer. Receptives work with a wide range of tour operators and save you time and effort acting as a central booking company who promotes you. There are several excellent receptives who specialize in our region and know it well. If you work with them realize this is a partnership where you both will benefit.
Make it easy to book your product. Update your website. More tour operators are foregoing printed brochures in favor of online marketing. An online brochure can be updated much more quickly to reflect new products. Include details in your website about booking procedures, cancellation policies and opening/closing dates so the tour operator has as much information as possible available to him without having to contact you. Don't make it difficult for them to sell your product. Be honest about what you offer.