Don't miss your chance to visit Historic Cody Wyoming during this year's RMI Roundup - there are many fun things to do and see while you are here! Enjoy the Buffalo Bill Center of the West, a complex of five museums and a research library featuring art and artifacts of the American West.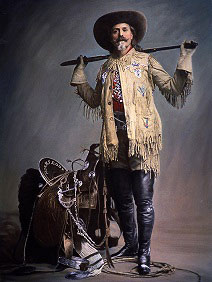 Colonel William F. "Buffalo Bill" Cody was one of the most colorful characters in American history. He toured the United States and Europe with his Wild West Show, featuring bronc riding, cattle roping and sharpshooting. Buffalo Bill spent some of his most cherished moments in the mountains, rivers and lakes near Cody, Wyoming. This was his personal playground. He loved the peace and quiet he found in these wild places as well as all the fun and adventure. You will learn all about his legendary life and the West he loved at the Buffalo Bill Center of the West, host of the Roundup reception and banquet.
After the RMI Roundup, Cody is just one hour's drive from America's first and most famous national park - Yellowstone. More than a park, it's a place full of natural beauty and spectacular wildlife. See some of the famous attractions, including Old Faithful Geyser, Mammoth Hot Springs, as well as the Grand Canyon of the Yellowstone and its breathtaking Lower Falls. It all starts at Cody's east gate - the wildest way into Yellowstone. Don't miss this great opportunity to experience Cody/Yellowstone Country in the spring!