Advertising Information

When designing your banner ad, please choose from one of the three sizes below. In
order for your banner ad to be approved for advertising, it must comply with the following
specifications: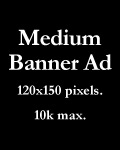 For further information, please contact :
James Scoon, Marketing Coordinator
P.O. Box 5031, 1815 Evans Ave
Cheyenne, WY, 82003
USA
Tel: (307) 637-4977 x12
Fax: (307) 634-5873
email: [email protected]
---
Copyright © 2000-2003 Rocky Mountain International. All rights reserved.